At the SLJ blog
A Fuse #8 Production
, Elizabeth Bird has posted an article entitled
"Are There Any Girl Bears?": Gender and the 21st Century Picture Book
. In the article, Bird examines the picture book
100 Animals on Parade
by Masayuki Sebe, specifically noting the spread that asks readers if there are any girl bears. She sites the fact that the author/illustrator is pointing readers to gender markers such as bows and eyelashes and that identifying girls in such a superficial way limits girls. She also uses the example of Legos and their current strategy to color Legos marketed to girls pink and lavender--a far cry from their 1980s gender neutral marketing, seen below: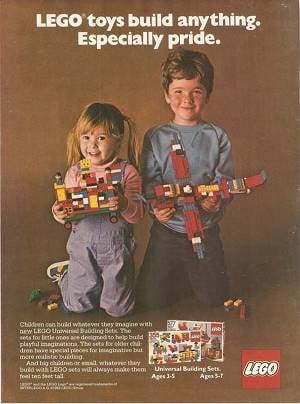 Clearly, Legos was lacking racial diversity in their advertising, but putting that aside, you can see what Bird is referring to. To read Bird's article in full, head over to
A Fuse #8 Production.
Do you agree or disagree with Bird's assertions? We'd love to hear your thoughts in the comments!